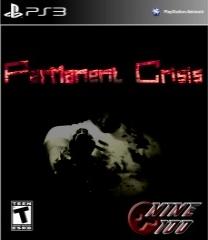 Call of Duty: Permanent Crisis
is a fictional game developed by Treyarch, Infinity Ward and
NINE100 Studios
. It is completely non-canon, and none of the scenes in the game relate to the canon Call of Duty series.
Permanent Crisis is avaliable for PS3, Xbox 360 and PC. There is also a version for the Nintendo 3DS called Permanent Crisis: Reloaded.
Backstory
Edit
Permanent Crisis is set in a time period between 2014 and 2016. It focuses on various divisions of the United Kingdom Special Forces (UKSF), such as the Special Forces Support (SFSG) and the Special Air Service (SAS), and also the Royal Marine Corps, the British Army, the U.S. Navy SEALs, Task Force 262 and the Army Ranger Wing (ARW)
There are two campaigns, the British Campaign and the U.S. Campaign. They are both split into numerous chapters. The British Campaign focuses on stopping huge attacks on prominent UK and Ireland cities such as London, Manchester and Dublin. The U.S. Campaign is based around a terrorist attack in Miami, Florida which left thousands dead.
British Campiagn
Edit
TBA...
U.S. Campaign
Edit
TBA...
Multiplayer
Edit
Main article: Call of Duty: Permanent Crisis/Multiplayer
Achievements
Edit
Main article: Call of Duty: Permanent Crisis/Achievements
Downloadable Content
Edit
TBA...
Ad blocker interference detected!
Wikia is a free-to-use site that makes money from advertising. We have a modified experience for viewers using ad blockers

Wikia is not accessible if you've made further modifications. Remove the custom ad blocker rule(s) and the page will load as expected.