Sgt. Christopher Noble



Age

24

Weapons

ACR, M1911, MP5.

Faction

USMC

Speciality

CQB

Nationality

USA
Sgt. Christopher "Noble" was a USMC operative.
Biography
Edit
Christopher was born in New York City in 1990, he was only 11 when the Twin Towers came down. Christopher joined the USMC in 2008 and proved to be a strong soldier he rose through the ranks and in September 2013 he achieved the rank of Sargent.
In early 2014 he was recruited to Task Force Neptune.
Weapon Loudout
Edit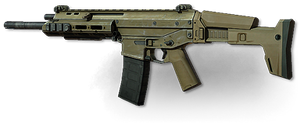 Noble's ACR,
And Noble's
M1911.
Recruitment to Task Force Neptune
Edit
After the attack on the Empire State Building, Sgt. Christopher Noble was recruited to Task Force Neptune for his loyal actions. He was then sent to Russia with the rest of the operatives.
Ad blocker interference detected!
Wikia is a free-to-use site that makes money from advertising. We have a modified experience for viewers using ad blockers

Wikia is not accessible if you've made further modifications. Remove the custom ad blocker rule(s) and the page will load as expected.