Specialist is a weapon class featured in Call of Duty: Warzone.
Description
Edit
"Takedowns by the book. The specialists are the best units, deployed to give the final push in a battle. Specialized armory for these soldiers"
―In-game description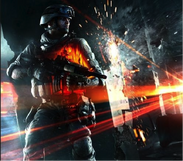 Specialist is a class, specialized for experienced players. The specialist class has the most unique weapons, who all are extremly good in one thing, but lacks the others. They are specialized in one thing, making them be the best to function in ccertain moments. They are equiped with revolvers, pistols, assault rifles, battle rifles, carbines, submachine guns, shotguns and sniper rifles. They are equipped with jammers, to jam enemy equipment, radar, HUD  and communication.
Advantages
Edit
"This class is made for experienced players. the weapons are hard to handle, but in the good hands they're very good. Specialists are good to work on the enemy's territory."
―Alec Verdoorn
Specialists are equipped with jammers.
Revolvers
Edit
Submachine guns
Edit
Assault rifles
Edit
AAC Honey Badger
AN-94 Abakan
Battle rifles
Edit
DSA SA58 PEC
LaRue OBR 5.56
Sniper rifles
Edit
Challenges
Edit
Ad blocker interference detected!
Wikia is a free-to-use site that makes money from advertising. We have a modified experience for viewers using ad blockers

Wikia is not accessible if you've made further modifications. Remove the custom ad blocker rule(s) and the page will load as expected.